PRESTIGE GROUP
COMMERCIAL REAL ESTATE CONSULTING
Prestige Group recognizes that every Clients commercial real estate needs are unique.
We tailor our consulting to the specific needs of each of our Clients. 
We provide a thorough needs analysis and then offer responsible options to how those needs can be addressed.
We offer objective counsel to the commercial real estate market. This is done on a fee for service basis.  There are times when a sale or acquisition is not in the best interest of a Client.  We are retained to counsel our Clients to help them reach the best decision for their needs and goals.
Our Consultation Services Include:
 •  Development of Real Estate Strategies
 •  Investment and Financial Analysis
 •  Cash Flow
 •  Risk Evaluation and Management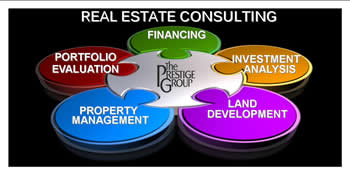 •  Lease Analysis
 •  1031 Exchange Investment Analysis
 •  Existing Facility Evaluation
 •  Portfolio Evaluation
 •  Location Analysis
 •  Appraisals
 •  Highest and Best Use Analysis
 •  Market Analysis
 •  Improve vs Move
 •  Remodeling
 •  Refinancing
Prestige Group has earned a reputation as a leading provider of customized commercial and investment real estate consultation services.